"The space has been warm, welcoming, and flexible...Communication and expectations are clear and respectful, and the realities and logistics of living the artist's life are understood"
-Laura Wilhelm, Artistic Director, Mad Munchkin Productions,  
The Front Gallery:
The front gallery is a formal display space. It features LED track lighting and adjustable window blinds. The floor is acid washed concrete with acoustic sound panels on the ceiling. Room measurements are 19' X 33' with a ceiling height of 9'
"The owners are always willing to accommodate our needs...this place is perfect for your next event...SHA is dedicated to art, community, and local culture and they show it by the various community events the space has hosted."
-Holly Johnson, Pastor and John Kerns, Minister of Music, Spirit Garage
The Back Gallery:
This flex space consists of gallery walls under the mezzanine as well as an open space with 17' ceilings. It is rough finished and ideal for gallery showing, visual and performing arts, benefits, community gatherings, etc. It features a lounge area, a 10' x 5' table for dining or meetings, 8' x 12' stage raiser, stage curtains, kitchenette. Room measurements: Under the mezzanine 40' wide x 20' deep with a 9' open beam ceiling. Open space 40' wide x 20' deep with 17' ceiling.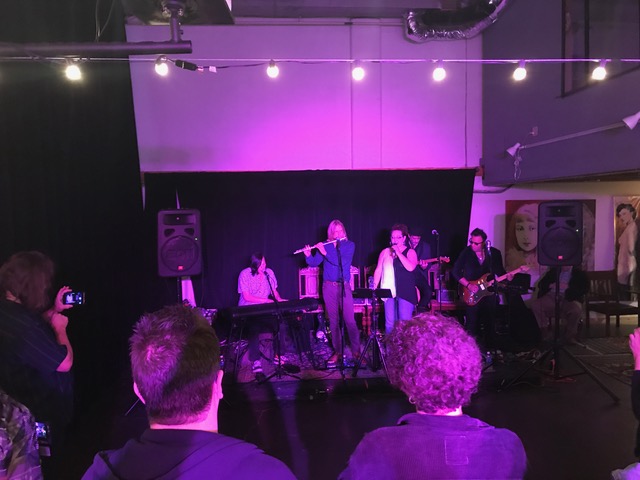 "SHA is the most convenient and versatile rehearsal space...the SHA crew does all they can to make sure we're taken care of at every turn. The Twin Cities arts community is so lucky to have this wonderful space."
-Ben Thietle -- Artistic Director, DalekoArts
Open design and build space:
This is raw space perfect for set building, large art projects, performance rehearsals, etc. A 12' overhead door opens to the back parking pad. Measurements : 29' X 42' with 17' ceiling.
The Backyard:
Located at the rear of our building on Dight Avenue. Easy to spot via our 17' Squirrel mural. This is a 2nd entrance for events, provides Handicap parking, and, space for activities required to be outside (wood carving, glass blowing, fire eating demos, etc). Perfect for food trucks. This space is visible from the intersection of Hiawatha and 35th St.
 "...SHA is really great to work with,...makes process as easy as possible. SHA is a wonderful resource for the arts and non-profit"
-Brian Moen-Dowling Urban Environmental Elementary School PTO
Library:
The Library is located on the 2nd floor. This room features a large work table and 4' x 8' white board. Access to this room is via security controlled doors. Room measurements: 19' X 27' with 9' ceiling.
"a perfect location with large indoor spaces...we drive our cars into the loading area directly for warmth...Clean, organized and quite versatile...LOVE this space". - John Kerns, independent blue-collar musician, Mpls
Parking:
Street parking is available at the front of the building. Our parking pad at the rear of the building will hold 8 vehicles. Evenings and weekends we have expanded parking at the rear of the building.
The Kitchen:
The kitchen offers a full size refrigerator, microwave, coffee and tea pots, water access and stainless steel work station. We offer tea, coffee and water in the fridge. There is an honor jar to purchase refreshments. We are committed recycle and compostable nerds. We are working towards Zero Waste with our choices for SHA.